Welcome to the LeBruin Group Update, designed to keep you up to date with news and views from the LeBruin Group.
The challenge of the covid period for all businesses has continued into 2021 and the prospects of a return to 'pre-covid' times of normal business environment seems some distance away. For many businesses, the uncertainty of the future economic environment along with recent developments in the Irish funding market, combine to potentially create the prospects of a very challenging period ahead.
The recent announcements of Ulster Bank and KBC Bank beginning the process of withdrawing from the Irish marketplace will result in borrowers seeking commercial real estate funding having limited options in terms of local funding sources in the years ahead.
Such developments in the Irish market for commercial real estate funding again highlights the important role of LeBruin's subsidiary company Origin Capital, www.origincapital.ie, in providing a vital source of alternative funding for borrowers looking to transact in the Irish marketplace.
Origin Capital continues to work closely with our funding partner Ready Capital Corporation (NYSE:RC) to provide funding into the marketplace and some of the recent deals that have been drawdown include:
€5m facility to part purchase 2 Georgian buildings and 2 stand alone residential units. 5-year interest only facility at 5.5% interest coupon with LTV of c70%.
€8m refinance facility on a portfolio of semi state rented residential assets located in various towns in Ireland. 5-year interest only facility with a 5.0% interest coupon.
€2.95m bridging/term loan to enable promoter part purchase a number of residential units, which will then be refurbished and subsequently refinanced by a pillar bank lender.
€4.5m principal and interest facility to refinance existing loans from a pillar bank and shareholder. LTV of c60% on mixed use assets located outside the Greater Dublin area.
LeBruin Advertising Campaign
LeBruin Group recently commenced an advertising campaign in conjunction with The Sunday Times to highlight the experience within the team in LeBruin to provide funding solutions for our clients.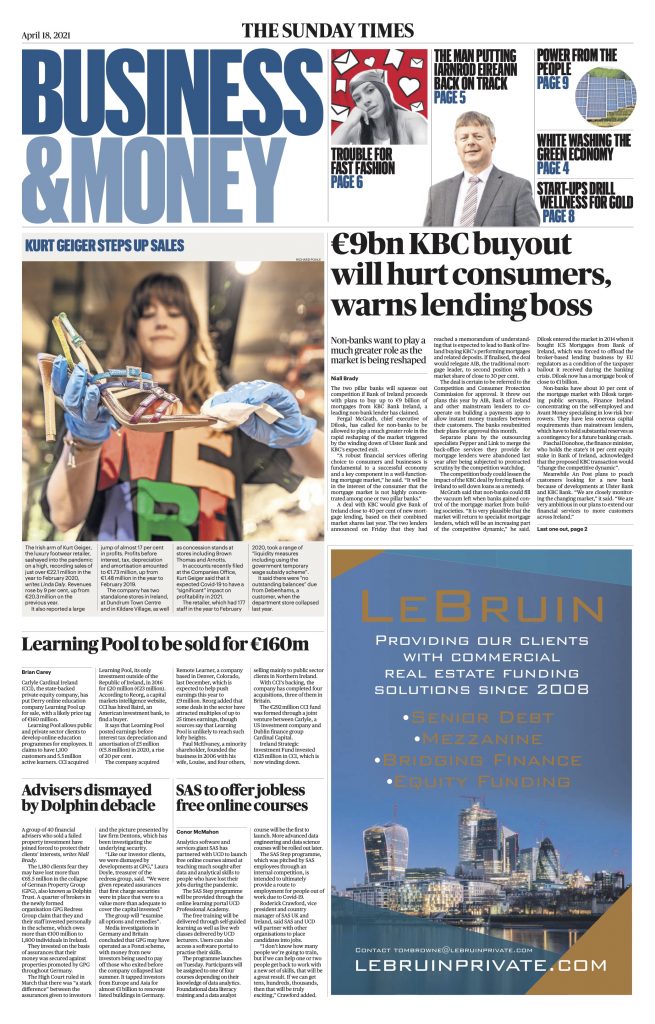 Over the last number of months, the team in LeBruin continued to work with third party funders both locally and internationally in raising development and large-scale investment funding for our clients. Our network of international funders continue to have an appetite to fund Irish real estate assets. The following are examples of fundraising projects that have been completed in recent times:
Project 1
€9m facility raised with US based hedge fund to facilitate the acquisition of a site in Dublin.
Client looking to take the site through planning process seeking more than 400 units.
12 months facility put in place with an optional 6-month extension.
65% LTV for site with no planning permission.
Project 2
£28m facility raised with UK private equity house.
Facility used to refinance incumbent lenders & allow borrower to potentially sell the business over the next 12 months.
70% LTV against residential assets in south London.
Project 3
€3.1m development funding raised with domestic based alternative funder.
Facility used to build 18 units in Waterford.
All units privately sold.
80% LTC achieved to deliver 100% of WIP.
LeBruin Group continues to provide funding solutions for our clients either through our direct lending platform Origin Capital or through third party funders that we have built long-standing working relationships with over the last 13 years.
The team in LeBruin would be delighted to provide assistance to you or your clients in relation to any funding requirements you may have in the commercial real estate marketplace. Contact tombrowne@lebruinprivate.com.